From churches, libraries, and academic buildings, to corporate headquarters, athletic complexes, and private homes: every space we design solves a problem.
Sometimes the problem is fun and easy: I need a spacious lakeside retreat to enjoy with my family and friends.
Other times, it requires consensus and approval from multiple stakeholders: We need a town library with community space and plenty of room for technology—and we need to build it on a limited municipal budget.
We start not with a sketch, but with your needs. What purpose will this space serve? For whom? What design options might work best? What style fits the project's character? And what needs to happen before we ever set pencil to paper?
Collaborative planning means cost savings on your finished building.
Our collaborative process invites you in from the very beginning, allowing you to influence project costs and decisions when it matters most.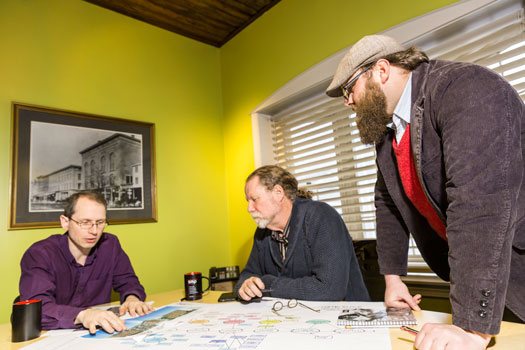 We recognize and educate our clients on a crucial concept: that the initial project planning phase—in which we're defining your goals, reviewing documentation, creating concept plans, facilitating meetings, and so on—are when you have the greatest ability to influence project cost. Once construction is underway, and the nearer your project gets to completion—the less influence you're able to have on cost.
This is where SMP brings the greatest value. We work hand-in-hand with you to clarify your needs and make recommendations to both solve a functional problem and create a workable budget. From needs assessments, to site selection, to contractor coordination, we're your partner in aligning the critical components your finished building depends on.
As the project progresses, we'll create detailed conceptual and architectural drawings. Along the way, we'll help you develop your project's character and "see" what it will look like, via an interactive visualization process. We'll also coordinate construction and assist in project closeout.

Although we serve as your dedicated partner throughout the entire process, our comprehensive upfront planning anticipates—and accounts for—issues down the line that otherwise can become costly. Our value is in our deep knowledge and experience in defining and developing projects from the outset—projects that are positioned for success through building completion and beyond.